Faux' is a French word meaning 'false or fake' and is pronounced 'foe' (like toe but with an F instead of the T). 'Faux' is generally combined with other words, like faux leather or faux fur, to make sure people know those items are not the real thing but only an imitation or look-alike.
In painting or home design, 'faux finishes' mean you are imitating the look or style of other finishes like marble, woodgrain, brick or wallpaper. Generally faux finishes use paint to make one surface look like something else; a perfect example is using paint to make a wooden column look like marble.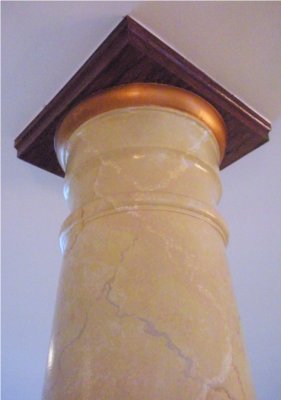 A column fauxed to look like
marble, copper & wood.

Wanting the wallpaper look without the mess is only one benefit attracting people to faux finishes. Some people are looking for something different and more unique than wallpaper, while others choose faux finishes because they love being able to choose their own colors and patterns.
Faux finishes are great because you are not limited to whatever styles or colors are popular at the moment like you are with wallpaper. With a faux finish you can have whatever style in whatever combination with any colors you want- you can have it your way and that's the way we want it!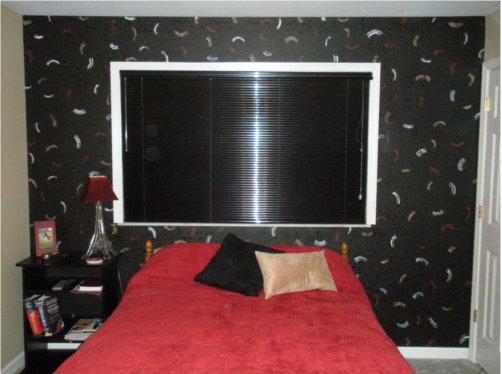 Create your own accent wall!

You can build your faux to compliment your existing room or you can create your faux first and furnish your room later. You can faux finish your whole room or you can use a faux as an accent on a single wall. You can also make your faux more subtle by putting it only under the chair rail.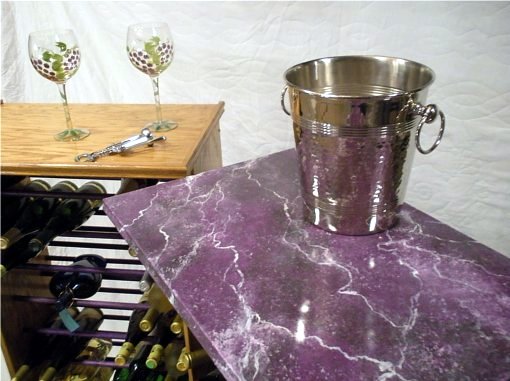 Fauxed purple marble top to a wine rack.

Faux finishes are also not limited to walls. I've fauxed ceilings with clouds, vents to blend in with the wall faux, wooden columns to look like marble and even the tops of wine racks too. You can see some of my faux finishes here, in my Faux Finish Portfolio.