With your old paints gone, you can turn your attention to the paints currently in your home. If you're the type that doesn't want or use touch-up paints, now is the time to take notes on all your remaining paints and get rid of them too (If you missed part 1 of this series, you can read it here and you can find more information on notes and labeling in part 3 of the series here). However, if you're like me and keep your touch-up paints you have a little more work to do. The next step is determining if the paints you're keeping are still any good BEFORE you go shaking the can.
2. Determining the usability of the paints you're keeping.
The first order of business now that you've sorted your paints is determining if the paint in the cans is still usable. Checking the lid seal is an easy first step because cans that aren't sealed properly rust, mildew or harden much faster than normal. If the seals are all fine, next you need to carefully and gently open each can and check if the paint has succumbed to any of the following paint-killing conditions: 1) freezing, 2) rusting or 3) mildew. If you can clearly tell any of these conditions has happened to your paint, your paint is now useless; you should take notes on the paint (part 1 told you how) and get rid of it in a proper responsible manner.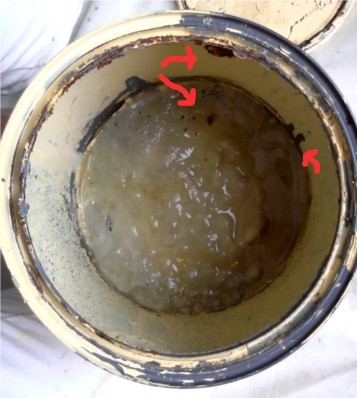 You can easily see how the paint looks curdled and chunky like bad milk
and the red arrows show rust on the rim and inside of the can.

If you are unsure what to look for, here is an evaluation checklist to help. If you answer 'yes' to any of these questions your paint is most-likely useless and should be discarded after taking notes:
Has your paint been stored in an unheated location over a winter? (this includes garages, crawlspaces, sheds and storage units)
After gently opening your paint can:
do you see a fair amount of rust sitting on the surface of the paint or large amounts of rust on the interior edge of the paint can?
does the paint look curdled like cottage cheese or bad milk?
does the paint smell like mold or mildew instead of paint?
do you see any mold or mildew sitting on the surface of the paint?
do you see foreign objects left in the paint like a roller cover or roller screen?
is the paint hard?
When in doubt about the paint condition, I advise getting rid of the paint. It's easy enough to get new paint when you need it and then you know for sure it's good. You should check your touch-up paints every few years for freezing, rust or mildew so you aren't keeping paint that is not usable. The longer paint sits, the more likely it is to have one or more of these paint-killing conditions so it's handy to have your paint information noted somewhere else besides the stack of touch-up paint you're keeping.