It's a new year and most of us are full of energy and hope for all we'll accomplish in the coming months. 'Get more organized' is a resolution you hear all the time and while I can't tell you how to organize the rest of your life, I CAN tell you 3 easy ways to organize your touch-up paints making them neater and easier to access in the future. Say 'goodbye' to your years of old paint randomly stuffed in a corner somewhere and 'hello' to usable paints and fully informative notes. First up, part one: sorting your paint.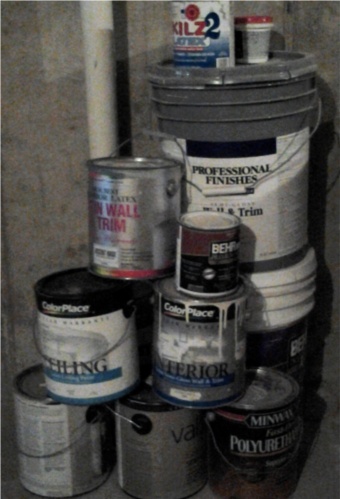 Old touch up paint stuffed in a basement.
1. De-clutter by sorting your paints and discarding useless cans.
Many people accumulate lots of touch-up paints over the years and while some people like and use the paints, others see them merely as an ugly burden taking up space. No matter how you see your touch-up paints, it will always be in your best interest to know exactly what paints are where in your home.
Several of our clients have binders that show swatches and notes about every room in their house and they keep them updated when they change something. A binder, or something like it, is a great organizational idea because having all the relevant paint information written down in one place releases you from having to remember which paint goes where, keep touch-up paint you won't use and helps you know the exact color and sheen of the paint you've already used should you want to use it in a different room or get more paint to simply freshen up your existing room.

So, onward with the sorting. The first step is to drag out all your touch-up paint and sort your cans into 2 piles: paint colors currently in your home and paint colors not currently in your home. Now that you have your paints separated, look through the paints NOT currently in your home and decide if you like those colors enough to possibly want them in your home again. If any of these paints are more than 5 years old you'll want to take notes rather than keeping the can itself. The paint is most likely not usable any more and why keep a can of questionable paint you might want to use sometime in the future?
Under a heading of 'previous paint colors' write down the paint maker, paint color, the paint number (if you can find it) and the sheen of the paint like I did here for my daughter's bedroom color:
This way, whether she needs to repaint or her best friend likes the color I have all the necessary information to give to someone else or take to a paint store and get exactly what I want. Now that you've taken notes on the old paints you might want to use again, you can get rid of them at the first opportunity.